The first time I saw Black Cobra was in February at the Empty Bottle. I can barely describe their awesomeness. Not only are Jason Landrian & Rafa Martinez amazing musicians that fucking kill it, they're also super gracious and polite. This kid I was going out with at the time, couldn't stop telling them how great they are and how their music is as heavy as Bullhead. They were very, very nice and even participated in a group hug with him.
Shut up! Group hugs are fucking metal!
Plus their t-shirts have Medusa riding two Great White Sharks. BRUTAL!
To further express my love for Black Cobra, I present to you a cupcake recipe inspired by their song Sugar Water. It features my favorite sugar water - Horchata!
Black Cobra

: Sugar Water Cakes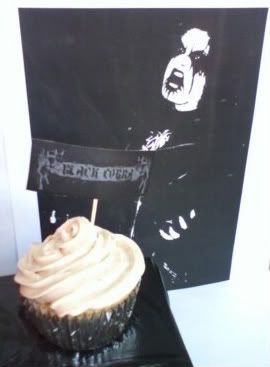 Makes 24
Metal Constituents:
1 stick butter
1-1/2 cups sugar
2 cups all purpose flour
2 teaspoons baking powder
1/2 teaspoon salt
1 teaspoon cinnamon
1 cup Horchata*
1 teaspoon vanilla extract
4 large egg whites
For the Frosting:
1 package (8 ounces) reduced fat cream cheese, at room temperature

4 tablespoons (1/2 stick) butter, at room temperature

3 cups confectioners' sugar, sifted

1 teaspoon ground cinnamon
*If you're lucky enough to have a Mexican restaurant in your vicinity, I recommend buying a large Horchata with no ice (so that it's not watered down in the batter), and then just drinking whatever you don't use.
Merciless Instructions:
Preheat oven to 350 degrees. Line a cupcake tin with papers.
Soften butter in the bowl of an electric mixer on high speed.
Drizzle the sugar in with the butter and beat until light and fluffy, about 2-3 minutes.
Sift flour, baking powder, salt, and cinnamon together.
Mix the Horchata and vanilla together.
Add the flour mixture to the butter & sugar in 3 parts alternating with Horchata. Beat well after each addition, and set mixture aside.
In a clean mixing bowl, beat egg whites until soft peaks form - if you've never done this before, it takes a while. Feel free to use an electric mixer, and maybe walk away for a bit to turn up your stereo. I'm sure it's playing Black Cobra, just like mine.
Gently fold egg whites into cake batter.
Scoop batter into the prepared cupcake papers filling about 2/3 full
Bake for approximately 20 minutes or until a cake tester comes out clean.

To Make the Frosting:

Place the cream cheese and butter in a large mixing bowl.

Blend with an electric mixer on low speed until combined, 30 seconds.

Add the con­fectioners' sugar, a little at a time, blend­ing with the mixer on low speed until the sugar is well incorporated, about 1 minute.

Add the cinnamon, then increase the mixer speed to medium and blend the frost­ing until fluffy, about 1 minute more.

Frost completely cooled cupcakes, and sprinkle with more cinnamon, if you so desire
Here is the video for "Sugar Water." Enjoy!