Oh Metallica... You used to be so great! I loved you so much. What the hell happened? Have you ever heard of going out on a high note? Seriously, I thought that Napster thing was bad (Lars, you're a dick) but then I made the mistake of watching Some Kind of Monster. *sigh* The only thing less metal than whining about your feelings all the time, is making a movie showing how you whine about your feelings all the time. Sitting through that was brutal, and not in the good way.
So let's all just pretend that they retired gracefully after
...And Justice For All
.
This is a special recipe for dogs.
You as a human can eat these if you want, I guess...
I made these for my favorite Pup, Oswald Holbranoff.
Here's a picture of Ozzy graduating from Puppy Preschool at the
Anti-Cruelty Society
:
And here's a picture of Ozzy enjoying a Master of Pupcake: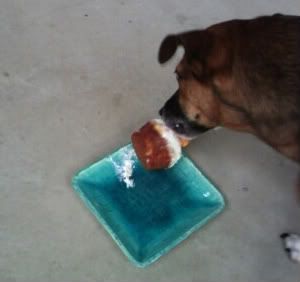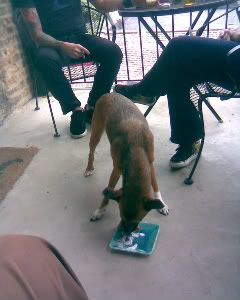 Looks good, doesn't it? That's me on the right.
Here's the recipe:
(Early) Metallica

: Master of Pupcakes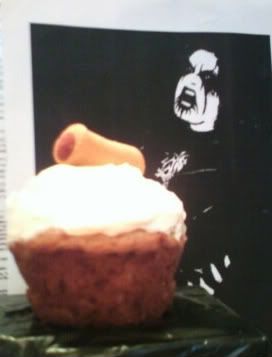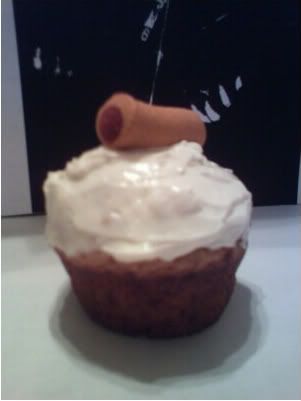 Metal Constituents:
1 large apple

1 1/2 cups wheat flour

1/4 cup oatmeal

2 teaspoons baking powder

1/2 teaspoon baking soda

1/2 cup plain yogurt

1/2 cup water

1/4 cup vegetable oil

2 tablespoons honey

2 eggs

1 cup grated cheddar cheese
For the Frosting
8 oz Neufchatel Cheese (lowfat cream cheese), room temperature

2 tablespoons plain yogurt

2 tablespoons honey
Merciless Instructions:
Preheat oven to 400 degrees, grease cupcake tins. **Do

NOT

use cupcake papers!! Dogs aren't supposed to eat those!!!!**

Core, slice and mince the apple (use a food processor if you have one). Set aside.

In a large bowl, mix together flour, oatmeal, baking powder, and baking soda.

In a medium bowl, blend together the yogurt, water, oil, honey, and eggs.

Stir in the apple bits and cheese.

Add to the flour mixture and stir until well combined.

Spoon batter into the muffin tins, filling each cup about 3/4 full.

Bake for about 20 minutes or until a toothpick inserted in the center of a Pupcake comes out clean.

Let rest in the cupcake tins for about 5 minutes, then remove and set aside to cool.

For the frosting, mix the Neufchatel cheese, honey, and yogurt until smooth. Feel free to add wheat flour to thicken the frosting to a good spreading consistency.

Frost completely cooled Pupcakes.

Decorate with little pieces of dog food or mini bones. I used Snausages.

Obey your Master.
Here is some footage of Metallica playing "Master of Puppets." Enjoy!