When I was in film school, I used a High on Fire song for a project in my Editing the Commercial Class. In my completely unbiased opinion, my final project fucking ruled.
Thank-you Matt Pike!
Mr.Pike also used to be in the amazing band
Sleep
.
Stay tuned for cupcakes inspired by that band too.
Feel free to replace the butter in this recipe with butter that has that type of oregano that smells like Otto's jacket, added to it.
High on Fire

: Fireface Cakes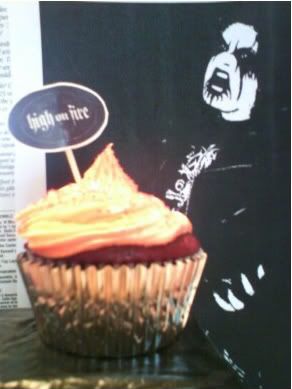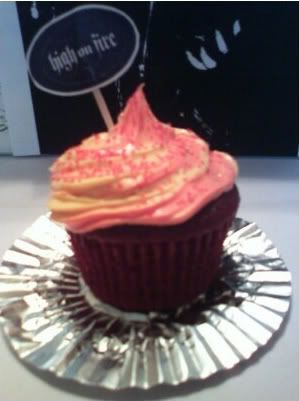 Metal Constituents
:
3 & 3/4 cups cake flour
1/4 cup cocoa
1 & 1/2 teaspoons baking soda
1 & 1/2 teaspoons baking powder
3/8 teaspoon salt
1 & 1/2 cups buttermilk
3 teaspoons vinegar
1 &1/2 teaspoons vanilla
1 bottle (1oz) red food coloring
2 & 1/4 cups sugar
1 & 1/2 sticks butter
3 eggs
1 cup Red Hots
For the Frosting:
8 ounces cream cheese, room temperature
3/4 cup confectioner's sugar
1/2 teaspoon vanilla extract
yellow food coloring
red food coloring
Merciless Instructions
:
Preheat oven to 350 degrees. Line a cupcake tin with baking cups and set aside.
Whisk together flour, cocoa powder, baking soda, baking powder, and salt in a medium bowl.
Whisk together buttermilk, vinegar, vanilla and food coloring in another medium bowl.
Beat sugar and butter in large bowl until fluffy, about 3 minutes.
Add eggs one at a time beating well after each addition
Add dry ingredients in 4 additions, alternating with buttermilk mixture in 3 additions.
Fold in Red Hots.
Scoop batter into baking cups, filling about 2/3 full.
Bake for 20-25 minutes, or until a toothpick inserted into the center of one cupcake comes out clean.
Allow cupcakes to cool in the pan for 10 minutes, before removing to a wire rack to cool completely.
To make the frosting: Combine cream cheese, confectioner's sugar, and vanilla extract in the bowl of an electric mixer. Whisk until smooth.
Divide frosting into 2 parts. Add yellow food coloring to 1 part, and orange (or red & yellow) food coloring to the other.
Load both colors into 2 different pastry bags, or on either side of a frosting gun barrel.
Frost cupcakes to look like flames.
Return to the clan with these and the scalps of the men who betrayed.
Here is some footage of High on Fire playing "Fireface."
Nice 'stache.